Biography
Bela Gipp (Dr.-Ing.) started his current position as full professor for Data & Knowledge Engineering at the University of Wuppertal, Germany in August 2018. His research interests lie at the intersection of information science and data science, where he focuses on the retrieval, analysis, and visualization of large volumes of data. The implications of blockchain technology – for the benefit of both industry and society – is another research domain Bela is passionate about.
He served as a junior professor at the University of Konstanz from February 2015 to August 2018, where he led the Information Science Group. In 2013, he earned a Ph.D. (summa cum laude) in Computer Science from the University of Magdeburg, Germany, while completing most of his research abroad on a 4-year scholarship funded research appointment at the University of California Berkeley. While at UC Berkeley, he leveraged the proximity to the Silicon Valley to found the technology start-up SciPlore and co-found Docear. After his doctorate, he received postdoctoral research fellowships at U.C. Berkeley and at the National Institute of Informatics in Tokyo.
In his youth, he participated in Jugend Forscht, Germany's premier youth science competition. He was honored by the German Chancellor, Schröder, and the Federal President after winning the 1st place at the state-level competition three times. Today, he supports Jugend Forscht as a jury member.
He has published over 100 peer-reviewed articles, three books, and has filed several patents. He secured multiple research grants from both public and private sectors, including venture capital investments for his start-ups.
He is founder and CIO at OriginStamp AG.
In his spare time, he enjoys hiking, skiing, paragliding, and photography.
Visit my group's website: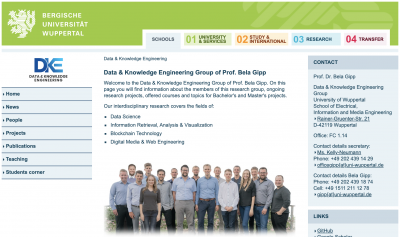 Short CV
Since Aug. 2018
Full professor (W3) at the University of Wuppertal, Germany
Chair for Data & Knowledge Engineering
Feb. 2015–2018
Juniorprofessor (W1) at the University of Konstanz, Germany
Head of the group "Information Science"
2014
Postdoc, National Institute of Informatics Tokyo, Japan
2013–2014
Postdoc, University of California (UC) Berkeley, USA
Sept. 2013
Ph.D. defense
2009–2013
Scholarship at UC Berkeley
School of Information & Department of Statistics
Before 2009
Otto-von-Guericke University, Germany
Jugend forscht
One of my Jugend Forscht projects was the development of an automated mobile emergency-call system, the GSM Guardian Angel, an idea, which will soon be adopted in Europe as a mandatory car safety standard "eCall" and is already in use in the US as "OnStar". To read a recent press article discussing the system click here or visit our project website.
Links
Project websites
Social network profiles